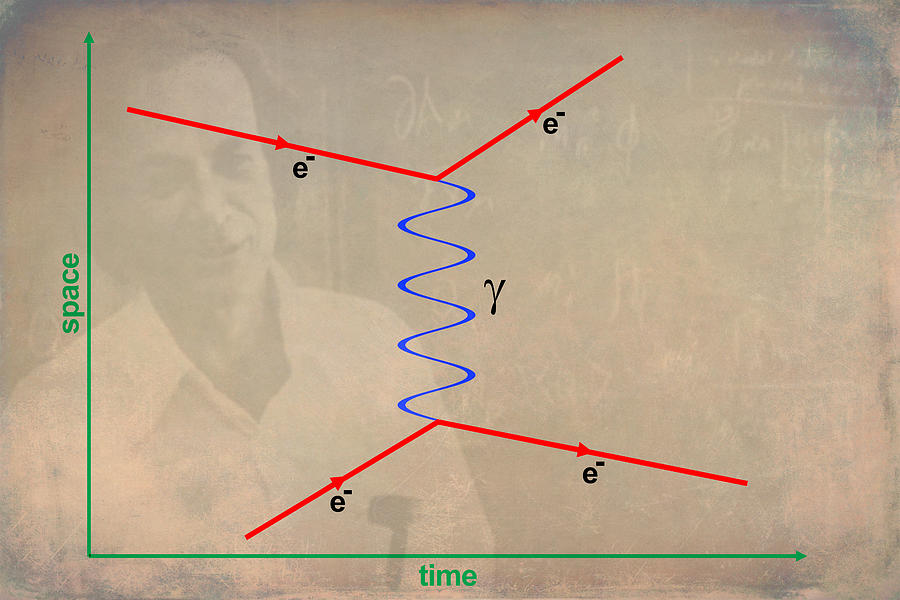 Buy the Original Digital Art
Dimensions
6000.000 x 4000.000 pixels
This original digital art is currently for sale. At the present time, originals are not offered for sale through the Ram Vasudev - Website secure checkout system. Please contact the artist directly to inquire about purchasing this original.
Click here to contact the artist.
Medium
Digital Art - Digital Art, Graphic Art
Description
This is a composite artwork, one part of which is the Feynman diagram (graphic art that I created in Photoshop), the other is a grungy texture, superimposed with an old photo of Feynman in front of his black chalkboard in his office at California Institute of Technology


Feynman diagrams are used in theoretical physics for pictorially describing the mathematical expressions governing the behavior of subatomic particles. The scheme was invented by the American physicist Richard Feynman in 1948 as a way to pictorially visualize what would otherwise be rather arcane abstract mathematics and difficult to understand intuitively.

A Feynman diagram is a graphical description of paths of subatomic particles during collisions, with one of the axes in the graph being time and the other being space, as shown in this image. This particular Feynman diagram depicts a collision of two electrons coming in from the left (their paths are shown in red and marked e-). One of them loses some momentum during the collision, emits a photon (light wave, shown as blue wavy line and marked by the Greek letter gamma) and recoils away from the second electron. The second electron absorbs the photon, thus gaining momentum, and also recoils away from the collision center.

Richard P. Feynman (1918-1988) was an American theoretical physicist known for his work in the path integral formulation of quantum mechanics, the theory of quantum electrodynamics, and the physics of the superfluidity of supercooled liquid helium, and particle physics. For his contributions to the development of quantum electrodynamics, Feynman, jointly with Julian Schwinger and Sin-Itiro Tomonaga, received the 1965 Nobel Prize in physics. He developed a widely used pictorial representation scheme for mathematical expressions describing the behavior of subatomic particles, which later became known as Feynman diagrams. In a 1999 poll, he was ranked as one of the ten greatest physicists of all time.


A large print of this image would be a great wall-art for your kid's room at home or dorm room to instill an interest in basic science and math. It would also enhance the intellectual atmosphere of your home. It would also be a great classroom wall-art.

Image copyrighted
© Ram Vasudev
All rights reserved

This work is protected by US and International Copyright laws. Do not steal this art by downloading to a computer, printing, copying (including screen capture) or reproducing in any form. It is illegal to do so and all infringements will be pursued to the full extent of the law.

Uploaded
February 16th, 2014
Statistics
Viewed 2,752 Times - Last Visitor from Romeo, MI on 06/04/2023 at 3:37 PM